Choosing China Train Types and Seat Types
When you're buying China train tickets online, you'll notice that the journey duration differs depending on which type of train you choose.
China train types can be recognized by their letter codes. G, D and C trains are high-speed trains, while Z, T and K are slower or overnight trains. High-speed trains in China have a few different classes of seats that are generally very comfortable but pricier than overnight trains. Overnight trains in China have hard and soft seating in addition to hard and soft sleeper options. While they're slower and make more stops than high-speed trains, overnight trains are great for travelers on a budget.
China High-Speed Trains: G and D Trains
China's high-speed trains run between Chinese provincial capitals and first-tier Chinese cities. G trains (G stands for gāotiě, 高铁) are China's bullet trains – the fastest trains with a maximum speed of 300 km/h. Tickets for these trains are the most expensive.
D trains (dòngchē, 动车) are the second fastest trains in China with speeds of up to 250 km/h. D trains only stop at major cities, with some running nonstop services.
C trains (chéngjì, 城际) refer specifically to the high-speed EMU trains that run short distances between cities like the 120-kilometer, 30-minute Beijing to Tianjin route.
China Train Seat Types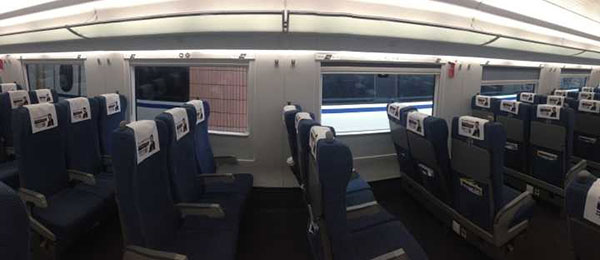 Business Class – Offered only on certain G (high-speed) trains, these are the most comfortable and expensive seats on Chinese trains, with three reclining leather seats in each row – two on one side and one on the other side of the aisle. Business class China train seats are ideal for travelers wanting to fully relax or rest during the journey.
VIP Class – Some G trains have VIP seats instead of business class seats, which are not as luxurious but are still very comfortable, with reading lamps and video facilities.
First Class – With four seats in a row and partially reclining chairs, first class China train seats are comfortable, with enough leg room for passengers. Power outlets, a pillow and a small table also come with each seat.
Second Class – These seats are the most affordable on China's high-speed trains. Power outlets are provided. While not as spacious as other seats, second class seats are still a good option for passengers wanting a convenient journey.
Sightseeing Seats – Located in the Business Class area, sightseeing seats on Chinese trains are next to large windows and provide travelers with great views.
Soft Sleepers – Available on some long-distance overnight D trains, soft sleepers on Chinese trains consist of four bunk beds in one enclosed compartment. Deluxe soft sleepers of two beds per compartment are also available.
Facilities on both G and D trains include dining carriages and snack carts. Bathrooms are generally clean.
High-Speed Train
Business/
VIP Class
First Class
Second Class
Sightseeing Seats
Soft Sleepers
G
Yes
Yes
Yes
Certain models
No
D
No
Yes
Yes
No
Certain trains
C
No
Yes
Yes
No
No
Regular Trains: Z, T and K Trains
Due to their slower speeds and more frequent stops, these Chinese trains offer sleeper tickets in addition to soft and hard seating options. Hard or soft seat tickets are cheaper but are often unsuitable for overnight journeys. Sleepers and seats on Chinese trains can be purchased for the following trains:
Z trains (zhídá, 直达) run to all major Chinese cities and only stop at major train stations. As these are usually overnight nights, hard and soft sleepers are available. Many also offer deluxe soft sleepers.
T trains (tèkuài, 特快) are slower but cover longer distances. These trains head to all of China's main cities, stopping at large Chinese towns on the way. Hard and soft sleepers as well as hard and soft seats are available.
K trains (kuàisù, 快速) are the slowest and oldest of China's trains, making the most stops. Both hard and soft seats and hard and soft sleepers are available.
China Train Seat Types
Hard Seats – Hard seats on Chinese trains are not actually hard, but are only thinly padded and the carriages are usually quite crowded. Passengers can smoke in these cars. Air-conditioning is not provided. As tickets for hard seats are cheap, short journeys are fine but the lack of comfort makes long-distance trips hard.
Soft Seats – Slightly more comfortable than hard seats, soft seats on Chinese trains are arranged in booths, with overhead luggage compartments. These carriages tend to be cleaner and less crowded than hard seat carriages. As air-conditioning is provided, these seats are bargains for travelers on a tight budget.
Hard Sleepers – These unenclosed bunk beds each come with a pillow, sheet and blanket. Like hard seats, hard sleepers on China's trains are not actually hard, but offer less room than their "soft" alternatives. There are six beds per compartment, three on each side. Aside from the lack of privacy and the inconvenient positions of the beds (your bed, whether it's a lower bunk, middle bunk or top bunk has to be navigated with other passengers in mind) these sleepers are a cheap option for travelers wanting to rest during the journey. The price of the bunks are not the same; the upper bunk is the cheapest and the lower bunk is the most expensive because it is more comfortable during daylight hours to sit on. Indeed, upper and middle bunk passengers usually sit on the bottom bunk during the daytime because they don't have the space to sit up on their own bunks. Don't get a lower bunk if you'd rather not share!
Soft Sleepers – Each soft sleeper compartment in Chinese trains contains four beds – two on each side – that come with comfortable bedding and wider berths. Because there are two rather than three bunks on each side of a soft sleeper compartment, soft sleeper tickets offer considerably more space than hard sleepers. Over-bed and under-bed storage is available. In addition, each bunk bed has an individual LCD screen.
Deluxe Soft Sleeper – Each compartment has two beds, with a table and closet. Bathroom facilities are comparatively clean. Some deluxe soft sleeper compartments include an in-room sink and a shower cubicle.
| Regular Train | Hard Seats | Soft Seats | Hard Sleepers | Soft Sleepers | Deluxe Sleepers |
| --- | --- | --- | --- | --- | --- |
| Z | No | No | No | Yes | Yes |
| T | Yes | Yes | Yes | Yes | No |
| K | Yes | Yes | Yes | Yes | No |